Our Team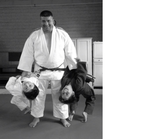 Robert Coelho

President/Head Coach
(NCAS Level 1)
Tel: 0429 236 108
Email: ballaratjudoclub@gmail.com
Robert began Judo in 1984 as a junior at the South/Port Melbourne Judo Club and later with Southern Judo Club during his teen years. As a senior trained at numerous clubs around Australia given his involvement with numerous law enforcement agencies. He currently holds the rank 1 KYU and is the Head Coach at the Grampians Judo Club. 
During his competitive career Robert regularly competed at both State, National and International level. He continues to compete in Masters Championships.
Robert has been providing Judo classes and internationally accredited defensive tactics system instructions around Australia for over 20 years and is inspired by Jigaro Kano's desire to help people be the best they can.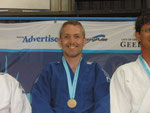 Simon Carroll

Assistant Coach
Simon began judo in 1981 at the Ballarat Judo club and has trained consistently during this period (bar a 4 year period in the mid 1990's). He currently holds the rank of 2nd Dan black belt and is the head coach at the club. 
During his competitive career Simon has regularly competed at both state and national levels having won and placed at many of them. He was fortunate enough to win the the 2000 National University Games and the 2009 National Masters Championships in his division and still tries to enter the odd open age or masters age tournament when fit enough.
As well as participating in Judo he has also spent some time training in other grappling arts including BJJ, sambo, freestyle wrestling and Cornish wrestling.