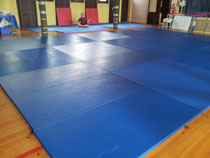 Hi Everyone,
Just a short note outlining some of our progress during term 1 2013. It's been a very busy time both on and off the mat so I thought it best to share what's been happening.
The new classes have settled in nicely with consistent numbers in the Tuesday junior classes, rapidly expanding numbers in the intermediate class and a regular 10 - 15 in the senior classes. Thursdays are a little quieter with a few brave juniors heading to the early class and between 5 - 10 at the later class. We will give the Thursdays a little time to develop before expanding to include any more nights.
Some of our larger classes caused us to think about our available space. After discussion with some of the senior members it was decided to purchase some more mats to provide an area for exercise and drills (no throws or fighting) so people can still do some work when the main mat is busy with free-practice (fighting).
Please note that the mats are still mats so you need to observe the same etiquette on them as you do on the main area. I would also like to thank the senior Tuesday classes for helping to move the furniture to the stage area to clear the space for the mats.
From a coaching / managment perspective there has also been a lot going on.
Our coaching group and some of the senior students will participate in an orientation evening on the 28th of Feb to come to grips with club policies including how we might evacuate if required. 
We are also beginning to come to terms with the new rules being implemented from the top down (IJF) that will change some aspects of competition fighting. If you are interested you can check them out yourself at  http://www.intjudo.eu/News/cikk24427 .
It also looks like we have two members competing at JMIM in a couple of weeks and around half a dozen (or more) trying their luck at the Bendigo Open on the 24th of March. Good luck to you all!
Thanks for reading
SenseiSimon