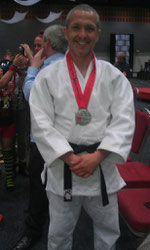 The end of the year is a very busy one this time around so I thought I would give you a little update regarding the clubs competitive endeavours. I'll follow it up on the weekend due to an event on Friday that we will be represented in.
The Bendigo Open coincided with International Judo Day this year. To celebrate, Simon Shields, Jeremy Maddern and Taro Ogata decided to enter. For Simon and Jeremy it had been a long (long) time since their last competitions so I congratulate them on taking the step. It can be quite nerve wracking competing at all so a long break makes getting back into it that much more difficult. For Taro it was his first judo competition and again this deserves plenty of recognition (especially when you begin against an Oceania Young Men's Champion).
The guys all did very well with Simon and Taro both winning a fight in their divisions and Jeremy coming close by making some good scores. Top job Team Aspire!
I missed Bendigo in order to make my way to the Gold Coast for the Pan Pacific Master's Games. I played in a combined group of 4 ranging from 31 years to 46 years with three black belts weighing 66kg and an Orange belt from the 73kg division. A great competition followed for us with a wonderful friendly feel. In the end we had all three black belts tied with 2 wins and a loss. From that mix I was able to take away a silver medal and some valuable points towards my next grading.
Over the next couple of weeks some of our juniors will participate in the KIC Cup and we may or may not have some of us participating in the State Championships on the first weekend of December.
Sensei Simon