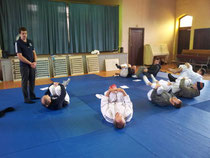 Winter training at the BJC
Saturday the 23rd of June saw a small but enthusiastic group of judoka drag themselves out of bed and into the Ballarat Judo Club dojo to be on the mat for a 9.30am start.
The cold conditions quickly confirmed to everyone that this really was "Winter Training".
Whilst most of the participants came from our club it was fantastic to see Doug Noak from Kardinia JC head back to his old stomping ground and Chris Legaud from Western JC also make the trek up the Midlands and Western HWY's to join in the fun and learning. To both of you, thank you!
The day began with us trying (almost in vein) to warm our feet and bodies up ready for training. Eventually most of us were able to thaw our bodies out enough to begin our judo in earnest.
As per all of our classes, we began with ukemi. Although there was over 160 judo years between the 9 participants we felt it was essential to go back to basics for this event and practice our falls and reflect on their meaning.
We then began exploring lateral shintai, looking at rise and fall, landing and take-off, and the effects of modifying our speed and position relative to our partner. This was followed by an hour of simply applying uchi & nage komi whilst moving laterally. Participants chose their own techniques and applied direct attacks, counter and combination techniques with regular rotation of partners to see the effects different partners had on the delivery of the techniques. It was great to hear the level of discussion and analysis increase as the session progressed. I think it was this discussion and the opportunity to make a lot of repetitions was a really valuable part of the day especially for the coaches who often miss out in order to give their attention to the development of their students.
Session 2 kicked off at 11am with Wesley Carter , a postgraduate student from The University of Ballarat presenting a session on the identification of major postural problems and how to correct them. This was related to shizentai and how we operate less efficiently when our posture is poor. It was great to see the level of focus and interaction in this session with all participants eager for information to not only improve their (and their students) judo but to prevent us contributing to postural problems with the ways many of us have trained over the years. I would like to publicly acknowledge Wes' efforts as he had only just completed exams in the week leading up and still managed to put together a very informative presentation and set of resources.
Lunch followed with some folk going their own way while others walked around the corner to an eatery for a meal. The few of us that ate together found it to be a nice opportunity to discuss judo and get to know more about each other.
With randori (tachi waza and newaza) the focus of the afternoon session; for some of us, the lovely lunch didn't seem like such a good idea after all. As always we live and learn!
After a good warm up and some combat based games, those that remained for the second half of the day set about trying to pace themselves for an hour of randori. Given that the average age of the group was more than 40 years I think everyone did a great job. There was some wonderful movement with lovely soft arms and many moments where the cracking sound of a well executed break fall (in response to an equally well delivered throw) pierced the air. The newaza was also terrific with people occasionally pausing their bouts to discuss, teach and learn from each other along the way.
As we cooled down and got changed we were blessed with the mellow sounds of local band (including BJC family members) called 'One part gin' who provided a wonderful background for the participants to relax,  socialize and lay down some plans for future group training sessions before saying goodbye.
Thanks again to all who participated.
Sensei Simon